ASCEND - Oil painting
"ASCEND"
(from original mermaid oil painting on canvas)

Inspired by the movement and grace of a mermaid, David wanted to capture the essence of light, freedom of the water, movement within a shared environment and the reminder to breath as we move forward in life.

The original painting is 4" x 16" on canvas and is available for sale.  Please email us for an appointment to view original artwork. 
Archival prints and sublimation metal prints are available in different sizes or custom size pieces. 
 
LARGER & CUSTOM SIZES AVAILABLE, please contact us for more information. More information on ORIGINALS:  visit  http://www.davidkizziarfineart.com/

****WE SHIP ANYWHERE, PLEASE EMAIL US FOR RATES********FREE SHIPPPING for addresses located in the Continental USA only**** U.S Terr. & International, please contact us for shipping rates. 

ASCEND was selected in the 2019 City of Laguna Beach Juried Banner Competition and will be displayed for years to come within the City during the summer.  The Banner was hand painted in acrylic on both sides of a 4 ft x 16 ft canvas banner and remains a part of Laguna's art collection.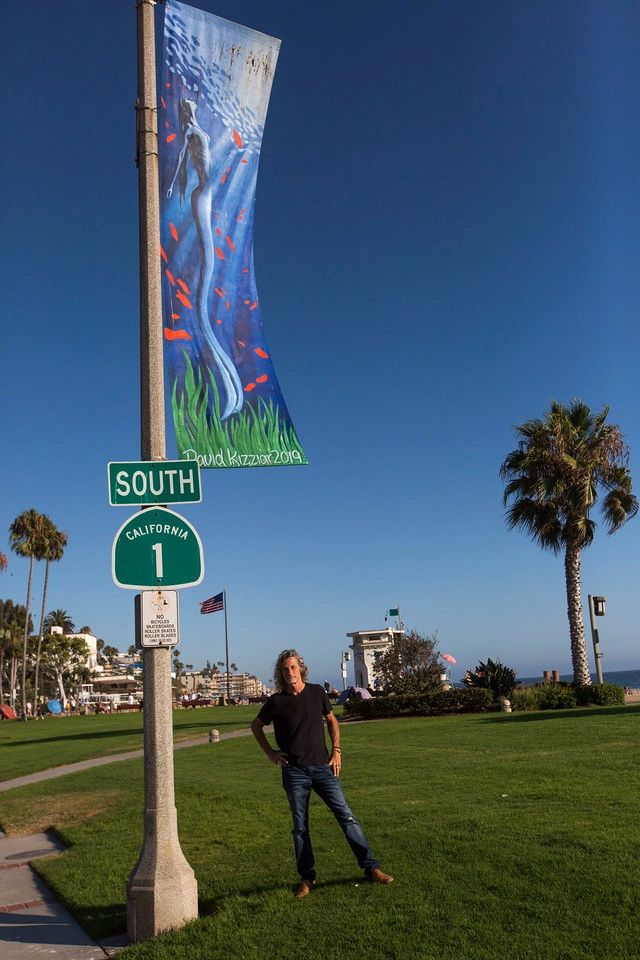 .

David Kizziar, "ASCEND", double-sided banner 4 ft x 16 ft original painting in acrylic.
©Copyright. All images and designs are protected under international copyright law. Any reproduction of the images is illegal.